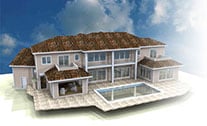 Your total design and
construction solution.
What's your preferred style: traditional, contemporary, modern, or green design? Get just the home you want with a custom architectural layout that reflects your vision. After you contact us, we'll sit down and put on paper exactly what you want for your kitchen, bathrooms, bedrooms, and living areas. You deserve the good life and we help you have it.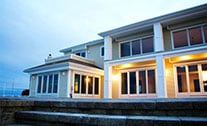 43+ years of expertise
calls for top quality work
There's a lot to designing and building your dream home, if you work with anyone else who doesn't have our time and experience, it can cost you thousands of dollars, extra build time, and headaches. We know the process of building inside and out, top to bottom, because we do it all. Trust in our experience and you'll love the results.
DESIGN
Architectural and engineering services, everything we provide.
Initial design consultation
The process begins with an initial consultation to define your design objectives and goals.
Get yours today!
3D renderings and walk-thru
The process begins with an initial consultation to define your design objectives and goals.
See a sample custom rendering
LEED certified eco homes
With LEED certified architects on staff, we can provide a next century green home that complies to the strictest standards.
Detailed cost estimation
We have one of the most detailed cost estimates around, and database is up to date and accurate.
Engineering load testing
With our strong Mechanical Engineering background, stress tests are done in the design phase, for the strongest house possible.
Zoning evaluations
Does your desired plan comply with the standards set by different organizations? Do you need a CAFRA, or a variance? We can help.
Conceptual designs
We ask all of our clients to form their own "wish list" of their ideal design, and then we draft concept designs.
Final architectural plans
We use the latest innovations in technology to bring you the best possible design at the lowest cost possible.
Land evaluation
With over 30 years of experience in designing and building at the shore. We can survey and make sure your home will last.
BUILD
Utilize our team of experts for your next build project.
What type of project are you looking to start? Since 1978 we've specialized
in the construction of waterfront homes on the New Jersey Shore.