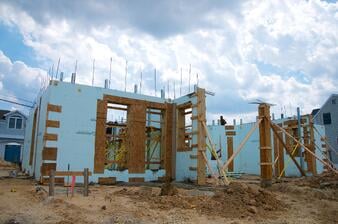 We have just broke ground on a new home located in Normandy Beach, NJ. The previous house had a very low elevation and had 6ft of water inside after Hurricane Sandy. So, we are extremely excited to be rebuilding this house. The property restoration design concept was created with the new FEMA flood zone maps that told us this location is located inside the V-zone, which means we needed to be at elevation 14 ft and have breakaway walls underneath the structure in order to be compliant. With this house, the design is set to have lots of storage area and a full four-car garage underneath the first floor. We actually like this design in that we can make lots of use of this "unlivable space".
What's different about this house is that, although there are pilings underneath, they do not have to be helical pilings, they are regular wood pilings that have been pounded in the ground. Another thing you'll notice is that even though the home's first floor elevation is all the way at 14', we are not using the pilings to get us there. Instead we are using poured concrete with ICF forms and concrete piers to get us to the new elevation. We believe this is really a superior design to the traditional "Carolina" look. With a house suspended in the air 10-14 feet above the ground elevation on wood piles, there is a great deal of structural concerns, not to mention how visually unappealing it looks on the outside.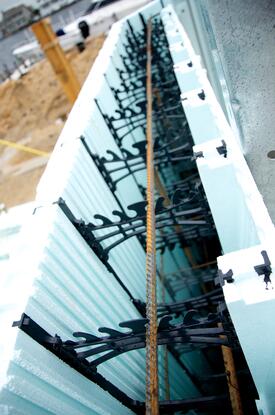 Building with ICF (Insulated Concrete Forms) allows concrete homes to be built stronger, more energy efficient, more comfortable and environmentally friendly. We can maintain control over the look and feel of the finished structure and have many more benefits in regards to a much higher R-value for insulation (R-50). This unique type of construction results in what we call a hurricane resistant home. We will talk more about the benefits of a concrete home in the post-Sandy world in a later post in this new series. Follow along with us as we will continue to give weekly updates on all of our new restoration projects.

This project is a full custom JJC Inc waterfront design-build project. With a design-build project we manage the entire project from start to finish, over the conventional system of architect and general contractor. It's a first-rate approach, and with over 35 years of design-build experience under our belts, we would love to talk with you about the experience of working with Project Engineers and Architects all in one team.