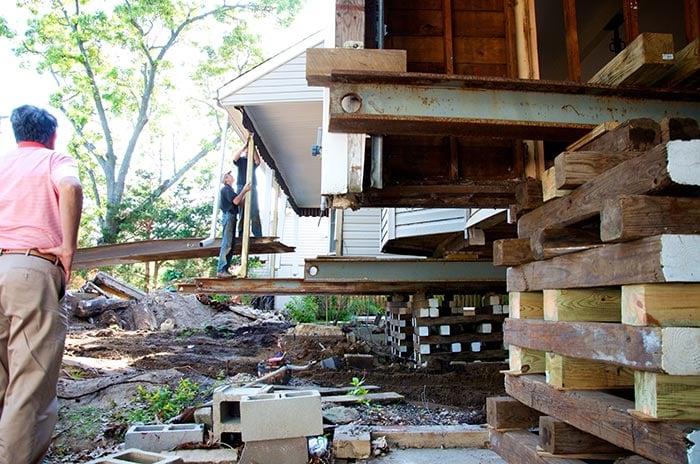 FEMA has finally issued revised flood maps for the Jersey Shore receding some of the dramatic expansion of V-Zones, it's time to get down to business elevating your homes with confidence.
Look up your property''s Base Flood Elevation on "the website, "What is my BFE"".
Homeowners should be very excited about this. Potential wave action requires V-Zone houses to be set on pilings and have "break away" wall construction. In A-Zones however, traditional perimeter wall foundations are acceptable. While the easing of V-Zone restrictions are good in regards to the ease of construction, we don't agree with some of the new base flood elevation (BFE) heights that in many cases went back down to their pre-Sandy levels. In some cases, homes that conformed to the old flood elevation before the storm still got flooded in Sandy. We don't think this makes sense, even if you justify Superstorm Sandy as a "500-year" storm - we now know that homes at these elevations can be flooded, which means there is still risk involved with restoring your house and maintaining your elevation. If you need to go through the expense of lifting your home, we think you need to go at least one foot above Sandy flood elevations regardless of what your FEMA issued BFE says.
How high is high enough?
First you need an elevation certificate from a surveyor to determine your home's current elevation.

We will then compare this to the current flood map to determine how high we need to raise your home in order to comply.

Depending on your current foundation's age and condition, and soil conditions, a new foundation design can then be developed.
Do I need to comply?
You only need to comply if your home has been deemed damaged more than 50% by your township.

You need to comply if your home has a mortgage, and your mortgage company requires you to obtain flood insurance.

In these cases if you choose not to comply, and you already have flood insurance, be prepared for dramatic increases to your flood insurance rate.

The other option is if you have no mortgage, and you do not want to buy flood insurance, you can always self-insure, but this is a risky option.
Raising your home is a multi-step process, and with many of our projects "in the air" right now, we hope we can be a great resource to you. Let us know if we can answer any of your questions.