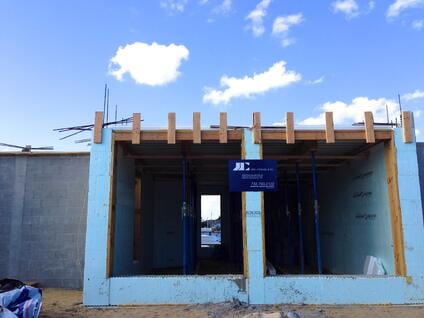 We are currently undergoing construction in Normandy Beach using some innovative construction techniques. We're calling this type of construction "Hurricane Proof", for good reason. This particular home is being constructed to the strict FEMA V-Zone flood construction requirements and is extremely strong.
First, we have installed breakaway walls in the structure for those walls that are perpendicular to the flow of the water, in compliance with FEMA requirements for "V" zone construction. These walls are designed to fail under certain wave force conditions. The failure of these walls allows the water pressure to flow through the building without causing any further damage to the foundation or any part of the building above the walls. Walls parallel to the flow of water are called shear walls and are constructed utilizing Insulated Concrete Forms (ICF) filled with reinforced concrete. This provides extremely strong lateral support to the overall structure, and allows the building to withstand high wind forces.
ICFs are made of molded expanded polystyrene (MEPS) foam and are used to form cast-in-place concrete walls. Unlike conventional cast-in-place concrete construction, the ICFs are left in place after the concrete cures to provide insulation, an attachment surface for interior and exterior finishes, and space to run plumbing and electrical lines within the wall.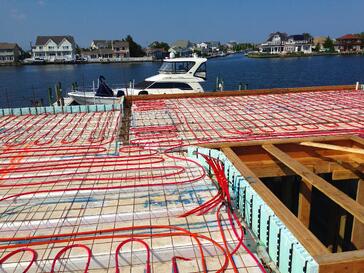 The first floor system is also insulated concrete. Lightweight. Versatile. Superior Sound Retention. These are characteristics of "Lite-Deck" flooring system. Lite-Deck is the solid concrete alternative for conventional floor and deck applications in residential homes, commercial buildings, and safety structures. The Lite-Deck provides the form work for the reinforced concrete floor placed upon the concrete foundation walls. This concrete deck ties the lower walls together resulting in an extremely strong platform for the main house located above. The results? A quiet, secure concrete structure that is sustainable and energy-efficient. LiteDeck's solid, reinforced concrete joists and cover is recognized by the Federal Emergency Management Agency (FEMA) to be an effective "envelope of protection against deadly winds when used in combination with reinforced concrete or masonry walls to construct a safe room".
In addition to being an incredibly strong building material, Lite-Deck flooring also has a fire rating of over 4 hours, and provides an insulation R-Value of R-28 in the floor. An added feature is to install radiant heating tubing in the Lite-Deck forms prior to concrete placement.
This provides an incredibly comfortable warm floor that is completely zone-able for heating the home through low cost radiant heat.
Though the initial cost of this construction method is more costly than its conventional wood counterpart, its quality is far superior. Through its energy savings, we know that it will return your initial investment in the form of lower heating and air conditioning costs.