It's been almost 2 years since Superstorm Sandy forever changed the Jersey Shore, and as more and more families start renovating or rebuilding their homes, you're starting to see more homes being built with concrete foundations. Some homeowners take it a step further and build their entire house out of concrete; walls, floors and all! If you truly want your new home to be a "Hurricane Proof Home" we bring you Part 3 of our ongoing series on building a Hurricane Proof Home using Insulated Concrete Forms or "ICF" building techniques.
Below we show you what some of the later stages of building a house entirely out of concrete looks like. The previous house had a very low elevation before Superstorm Sandy and when the new FEMA flood zone maps were released (before they foolishly changed them back) the house was rebuilt to comply with the strict V-Zone requirements, having the first floor at elevation 14 feet.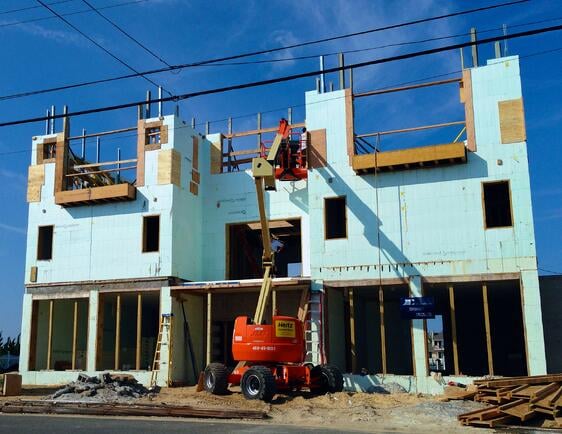 The homeowner really wanted to ensure his house would be protected from whatever Mother Nature would throw at them so we decided to build the entire house out of concrete, utilizing the speciality ICF forms. The same techniques are repeated at each level to form the first floor and upper levels. It turns out that this is without a doubt the strongest and most energy efficient way to build a house. There are so many benefits to not only having your foundation constructed out of concrete but your floors and walls as well.
The more traditional method of concrete housing constructions is done using Cast-in-place walls. They are made with ready-mix concrete placed into metal or wooden removable forms erected on site. While these are a strong option too, you don't get the energy saving benefits from having Insulated Concrete Forms, which remain in place after the concrete hardens. They provide an even greater energy solutions for the structure of the home, since they create walls with a performance values up to R-50. The highly insulated walls result in energy savings of up to 70% when compared to traditional wood building methods. The additional cost of this type of construction will return your investment, by saving gas and electric cost within 5-7 years. ICF walls also offer homeowners and families maximum protection from fire with a rating of up to 4 hours. The insulated concrete walls are built with steel reinforced concrete and a non-toxic fire retardant expanded polystyrene foam ensuring maximum safety.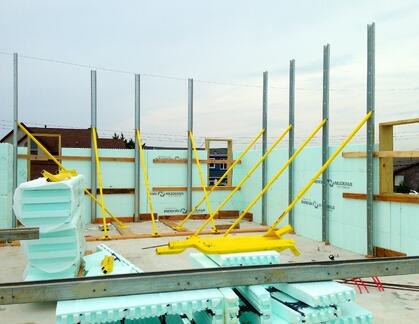 One important factor that everyone forgets to consider is that everyone is raising their home to get out of the danger of future flooding, however by raising your home you increase the wind loading that the building must withstand. High winds are a common occurrence at the Jersey shore. Summer squalls and winter nor'easters can easily produce 50—75 mph winds. These winds will easily increase the loading on the home, that are far greater than the home would normally experience when built low to the ground. ICF construction results in superior strength, enabling the building to easily withstand the higher wind loading. Insulated Concrete Forms provide greater impact resistance and will withstand winds of up 250 mph. No building sway, or wall stress cracking to worry about whenever the wind blows. You will also notice how quiet the buildings' interior is as a result of this method of construction. The strength of the ICF wall comes from the solid concrete core. Although framing the house takes a little longer than traditional wood framing, mostly due to waiting for the concrete to dry, the benefits of building a house out of concrete are abundantly clear.
If you would like to learn more about the costs and benefits of ICF Construction, let's discuss over a free consultation with JJC Inc.
---