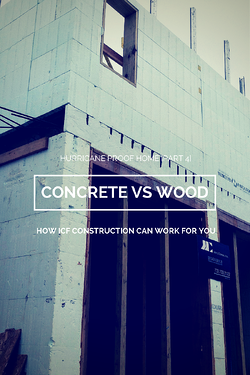 The benefits of building a house out of stone as opposed to wood has been engrained into most peoples heads since childhood thanks to those 3 little pigs and their run-in with a wolf. But these days home owners at the Jersey Shore have bigger problems than bacon hungry wolves. As we are now into the fall and approach the harsh winter months homeowners have hurricanes, nor'easterns and snowstorms to worry about. To get through these extreme weather conditions it's a necessity to have a strong house.
Time Magazine named Ocean County, NJ the most dangerous place to live in the United States, basing this claim to the frequency of Natural Disasters. "Tidal surges and storms like Hurricane Sandy make this oceanfront county vulnerable", they say in their "Answers Issue" which hit newsstands last month..
Time isn't going too far when you consider just how much damage Hurricane Sandy caused. But it isn't just high profile storms like Sandy that cause damage to people's homes, a few weeks ago neighbors witnessed a house in Seaside Heights that had just finished framing collapse on site during a Summer storm. We won't speculate what was the cause of the collapse but it's clear that they didn't have a proper weight distribution analysis. We believe that building using concrete is the best way to build for a sustainable future and to keep your home safe in the "most dangerous county in the country."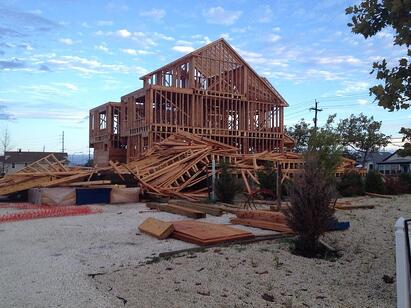 Building with concrete, especially with Insulated Concrete Forms or ICF, provides a variety of benefits over traditional wood frame structure. An ICF House vs. Wood will provide greater safety, greater energy efficiency and a healthy home for you and your family that will be able to take on anything nature throws at you. ICFs provide a concrete wall with varying ICF form thicknesses from 4 inches to 12 inches of concrete to meet any building type. When compared to a typical wood frame wall that is comprised of 2X4's and bat insulation the advantage of building an ICF house vs wood is far superior. An ICF House provides greater safety in Hurricane withstanding winds of up to 250mph and provide up to 50 – 70% better energy performance over stick frame homes. The concrete in a ICF house provides Thermal Mass, which provides R-Values of up to R50 compared to Traditional wood frame homes that only offer R20. But the benefits don't stop there, a traditional stick frame has a 45minute fire rating where as an ICF house has a 4 hour fire protection. Wood walls also retain moisture allowing mold to grow. After Sandy you wouldn't believe the amount of mold found inside the damaged houses. ICF walls do not produce mold growth, they also are non toxic and do not emit any CFC or HCFC whereas manufactured wood produce contain adhesives and formaldehyde.
Walls make up the largest surface area of any home, so ensuring that walls have good thermal mass and low R-values is extremely important. An ICF House vs. Wood can provide this because of the high thermal mass of the concrete combined with the stay-in-place insulation. A concrete House provides the maximum thermal performance. Insulated Concrete Forms are simply the most energy efficient, safest, and strongest solution to homeowners in coastal environment.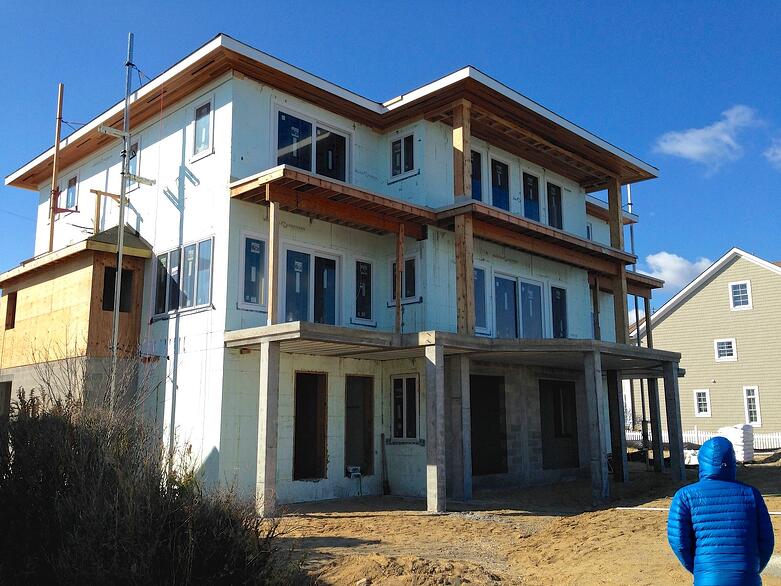 ---