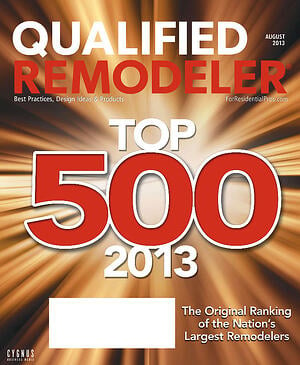 We've done it again! We're so excited to have been chosen on the 2013 Top 500 Qualified Remodelers in the USA list for the 10th time! Our President and Founder, John Chando commented: "We are so proud and humbled to have been nationally recognized for our works in remodeling homes. Our team has been working incredibly hard over the past year, and it is a great honor to continually be on this prestigious list."
Qualified Remodeler Magazine takes into account remodeling volume, total years in business, industry association memberships, industry certifications, and community service when putting together their yearly list.
Two-thirds of this year's Top 500 reported at least some overall gross revenue gain in 2012 — and some reported substantial gains.
Being in business for 35 years really helps.
Overall, the picture painted by the Top 500 is one of companies that have been in business for an average of 25 years and have been in the same location for an average of 24 years — in other words, these are mainly stable and established companies which have weathered the economic cycles of remodeling more than once.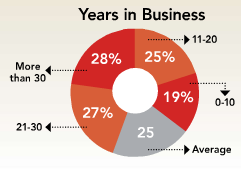 The following are some of the thoughts shared by this year's Top 500:
Q: Has the remodeling business changed dramatically over the past several years, or do you feel this is just one more cycle in the series of booms and downturns that characterize the industry? Has the industry changed permanently, at least for the foreseeable future?
I think the industry is the same but consumers have changed with the Internet. Each company must have a strong digital voice and identity online or else others will shape your online identity. — Scott Mosby, Mosby Building Arts, St. Louis, Mo. (No. 85)
John J Chando Jr. Inc., a New Jersey Coastal Design-Build firm has been in business since 1978, specializing in custom waterfront homes and remodels. We're a team of engineers and architects, as well as skilled craftsman in a variety of trades that has earned the trust of thousands of homeowners over the years in a multitude of challenging projects. Now, we're rebuilding and remodeling many of the damaged homes from Hurricane Sandy. Get in touch with us to discuss how our experience can add value to your next remodeling project.
(Source: http://www.forresidentialpros.com/topics/special-reports/qr-top-500)